Salisbury Art Space (formally known as Art Institute and Gallery) is located in downtown Salisbury, Maryland. SAS is a 501(c)(3) non-profit arts organization, funded in part by the Maryland State Arts Council (funding for the Maryland State Arts Council is also provided by the National Endowment for the Arts, a federal agency), The Salisbury Wicomico Arts Council (SWAC), and the City of Salisbury. Another outstanding partner is the Community Foundation of the Eastern Shore. CFES has awarded SAS many programmatic grants, enabling us to offer exceptional art education programs and unique exhibitions. Salisbury Art Space is locally supported by other community organizations and foundations, individual donations, memberships, designated donor funds and an annual appeal.
Originally established in 1953 as the Salisbury Art League, SAS is now beginning its 65th year of service. The mission of SAS is to advance the visual arts in the mid-Delmarva region through exhibitions for seasoned and emerging artists and art education for children and adults.
After 65 years, this unique art center continues to fulfill its mission by offering many opportunities to participate in the arts.
Multi-media Art Exhibitions
Foyer Gallery Solo Exhibitions
3D Center Gallery Solo Exhibitions
Robinson Gallery Solo/Group Exhibitions
Annual National Juried Exhibition
Workshops, Lectures, Seminars and Special Programs
Art Classes for Children, Youth and Adults
Instructor Opportunities
Volunteer opportunities for teens and adults.
The opportunity to consign artisan works in the…….The best kept secret on the Eastern Shore: the Martha Gue' Gallery Shop of Salisbury Art Space
Salisbury Art Space offers:
a large classroom
a full-service on-site pottery studio
a gallery shop, offices
4 areas of gallery space
Do you have a special occasion coming up? The gallery space is available for small to medium receptions (up to 100 people), weddings, birthdays for children or adults and for meetings and after-hour events. Art-themed birthday parties can be arranged for children.  Solo exhibition space is available in the Foyer Gallery, 3D Center Gallery and the Robinson Gallery.  To learn more about renting the gallery space call the office at 410-546-4748
Why not stop in and visit? Salisbury Art Space is located in the Gallery Building on the downtown Plaza in Salisbury, Maryland.The entrance is on the Camden Street side of the Plaza across from the Wicomico Library and four doors down from WMDT Channel 47. Parking is conveniently located in the lot in the front of our entrance and the first two hours are free. SAS is handicapped accessible.  Wi-FI available.
We look forwarding to meeting you!
These are just a few of the people who make Salisbury Art Space run on a daily basis, alongside our wonderful interns and volunteers. We would love to hear stories about SAS's history, and any advice that you may have to give us! SAS is a community art space, and we would like for everyone to feel welcome when they visit. Please stop by to see the current exhibition, drop in for a class, volunteer, or just say hi!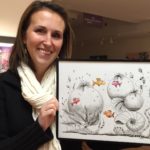 Alison "Ali" Grice – Executive Director
Alison Grice is the Executive Director of Salisbury Art Space. She is working to find new and exciting ways for SAS's staff, instructors, and volunteers to promote the vision of "Art for All" – art education and exhibition opportunities for all who seek them. Email Alison with questions about the gallery!
Alison has a background in both healthcare and art. She has previously worked as an art instructor and Executive Assistant at SAS. After studying Biology and Psychology at Mount Saint Mary's University, she earned a second undergraduate degree, a Bachelor of Art at Salisbury University, in a 2-dimensional track. Originally from Northern New Jersey, Alison now resides in Salisbury, MD, with her Husband Bob, and their dog, Bella.
Barbara Adkins – Martha Gue Gift Shop Manager
Barbara Adkins, a spectacular artist in her own right,  is a long-time member of Salisbury Art Space and is the volunteer manager of the Martha Gue SAS Gallery Shop.  Barbara handles all sales both retail and consignment.  She is the point of contact for artists and artisans to bring in their works for consideration in the shop.  Anyone who is interested in consigning their work should visit here with Barbara who will take great care of your needs.  Barbara is amazing as you will soon discover.  Barbara is in on Tuesdays!
Deb Dickerson – Volunteer Coordinator
Dr. Deb Dickerson is a business consultant who has worked with small businesses, non-profits, and large corporations to help them streamline their processes, and become more effective organizations. She helps SAS in many ways, but has found her niche here as the (volunteer) volunteer coordinator, helping us connect with people in the community who are willing to by donate their time, skills, and expertise.
Salisbury Art Space
212 W. Main St. Suite 101 (Camden St. entrance)
Salisbury, MD   21801
Phone: 410-546-4748
Hours:
Wednesday 12pm – 5pm
Thursday 12pm – 5pm
Friday 12pm – 5pm
3rd Friday's 12pm – 8pm
Saturday 12pm – 5pm
To reach staff:  Alison Grice (Executive Director) – alison@aiandg.org